We promote sustainable transport = electric mobility
Our mission is to promote electric mobility in all its forms, to create a network and synergy among all the players in the industry. Electric mobility is the most important part of sustainable mobility, permitting emission reduction both in a global and a local scale. Sustainability is our century's goal, and our mission is to reach it.
Our mission is to share and spread sustainable mobility through cooperation among all the stakeholders
We have created a network connecting local and national public administrations, energy providers, automotive and mobility enterprises, scientific institutes and universities, electric vehicle owners. Our purpose is transforming the traditional  mobility model by leading the transition through abandonment of fossil fuels.
We spread scientific, unbiased information about electric mobility and we share this knowledge with everyone is interested in being part of our community.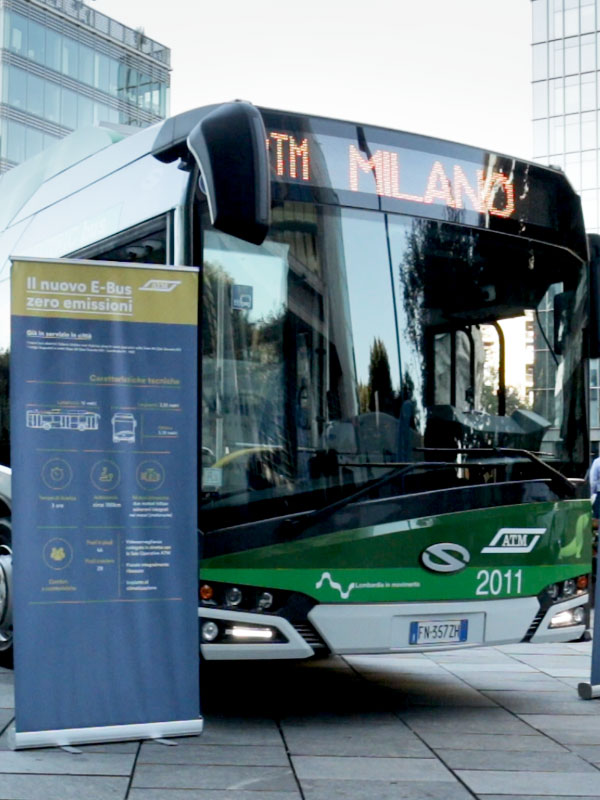 Every year e_mob takes place in Milan, usually in September.

1st edition
On May 18-19-20th 2017, e_mob took place in the astonishing setting of Castello Sforzesco in Milan
2nd edition
27-28-29th of September 2018, in Piazza Città di Lombardia (Lombardy Region Building) in Milan.
3rd edition
26-27-28th of September 2019, in Piazza Città di Lombardia (Lombardy Region Building) in Milan.
e_mob event is a national conference for analysis, discussion, sharing and transforming ideas among every stakeholder involved in electric mobility. All the documents and reports produced during the previous year are collected and shared within the network of municipalities gathered in the Metropolitan Chart of Electric Mobility, the Scientific and Organizing Committee and the sponsors. e_mob event is the place for discussion between local municipalities and the representatives of the electric industries, and between central government and Italian regions' representatives.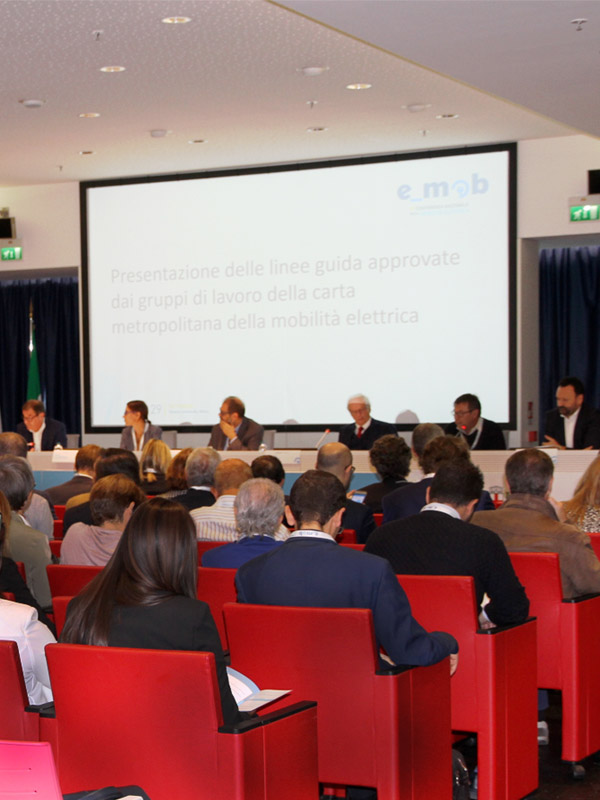 The Metropolitan Chart of Electric Mobility
It's the main document of our National Conference, promoted by municipalities such as Bologna, Milano, Torino, Varese and subscribed by many other cities with more than 20.000 citizens.
Actions and Paths for Electric Transport Development
This document was developed and shared during e_mob 2018 in order to put into practice the Metropolitan Chart. Our proposals for practical actions were brought to the Italian Government.
The result has been crystal clear: the Government has developed a provision for the financial law of 2018 for the allocation of bonuses for new electric cars purchases and wall box placement.
Starting from these two documents we're developing activities and actions for the 4th National Conference of Electric Mobility. Subscribers Municipalities took on the commitment to approve a "test resolution"; we are monitoring the results by distributing them a questionnaire.
Starting from this year we'll get in touch also with municipalities with less than 20,000 inhabitants, in order to let them join the Metropolitan Chart and actively participate to specific focus groups.
We're not just collecting subscriptions, but creating an active network which shares ideas and creates partnerships in order to develop electric mobility beginning from the basics, which means connecting territories and local municipalities.
Brief history of e_mob's community
We began in 2016 organizing "rEVolution – Electric Drive Days" in the Centre for Safe Driving of Lainate (Milan). One year later we organized in Milan the first National Conference on Electric Mobility (e_mob), followed by its second and third editions. Besides the fourth edition (November 2020), we continue promoting different actions to lead the transition toward a zero emission mobility and supporting bonuses for electric vehicles, both with four and two wheels. 
This site is managed by:
CLASS Onlus – Lombard Committee for Environment and Sustainable Development. Non-profit Association

Via Einaudi, 1 – 20093 Cologno Monzese (Milano) – Italy
CF: 97365930151 – P. IVA: 05435000962
Tel: + 39 02 2720 8182 – Fax: +39 02 2720 1315 – info@classonlus.it
classonlus.it | Contact | Sign up | Privacy